Got a question? Get instant answers:

Kickers is a brand loved by generations! Popular in the 70s, 80s, 90s and still going today, the brand has always had an affiliation with music scenes and fashion movements. The perfect match for your Kickers boots, this range of men's socks is available in a wide variety of colours and stripes. Check out our collection here.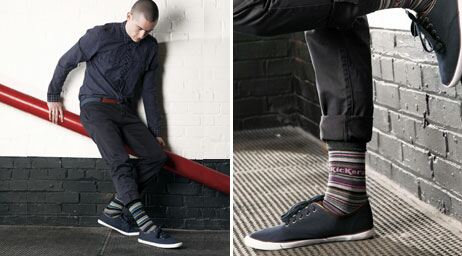 Legend has it that Kickers all began in 1970 when Daniel Raufast was staring at a poster for the musical Hair. The people in the poster were all bare foot, wearing jeans and this is when the Kickers concept was born.
Designer, Jacques Chevallereau, came up with the revolutionary "jean boot", heavily influenced by the trend for denim, this "jean boot" had eyelets, contrast stitching, panels and appliqués. Totally radical, this new shoe looked less like a shoe and more like a short length boot. Using nubuck gave the shoe a softness and choice of colours. The flexible sole was made with natural rubber.
This revolutionary nubuck high shoe meant that Kickers production capacity increased from 300 to 12,000 pairs per month and in 1974 Kickers were being sold in over 70 countries.
Kickers have played a part in some major fashion movements along the way and has had always had an affiliation with music.
With the Kickers Kick Hi seen on the feet of Roger Daltry, Elton John and David Bowie in the 70s. It was the Manchester music scene that adopted Kickers in the late 80s and early 90s. Ian Brown wore a pair of Kick Hi's to the Hacienda in response to it's "no trainers" policy. They can also be spotted on the Stone Roses in their "Fools Gold" video. The Kick Hi then went on to be the must-have on the acid house music scene and later the trance music scene.
More recently, Kickers have been worn by the likes of the Oasis boys, Arctic Monkeys, Mike Skinner, Jarvis Cocker and Dizzee Rascal further cementing its association with major music movements.


11 results in Kickers Socks & Underwear
Sort By: