We accept PayPal and Amazon Payments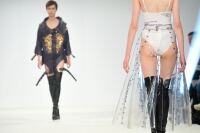 Students get first taste of world of fashion
02nd June 2015
The great and good from the world of fashion have been gathering in London for a prestigious event ...
View More News
Got a question? Get instant answers:
Charity Socks
Spread the message with your feet in our range of Charity socks. Not only helping your feet look and feel great, these Charity socks will help support some very important charities and causes.

7 results in Charity Socks
Sort By: