We accept PayPal and Amazon Payments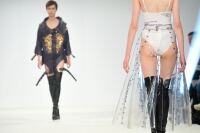 Students get first taste of world of fashion
02nd June 2015
The great and good from the world of fashion have been gathering in London for a prestigious event ...
View More News
Got a question? Get instant answers:
About Us

Customer Services

Our Sister Sites
Contact Us
Please complete the following form to send your message.
Get in touch about your order
.

Call
Our Order Helpline team are available from
8am to 7pm GMT on Monday to Friday .
So if you're having any trouble ordering, call us on
08000 195 667 .

If you're calling from outside the UK, please use
+44(0) 1706 826 518 .

Email

You can also get in touch by filling out the simple
form to your left.
Wait… maybe we can help now?

My order hasn't been delivered?
Once you receive a
confirmation email
, we can assure that your order's been dispatched.
Please wait up to
7 days
for UK orders, and
10 days
for overseas orders – just because every so often courier parcels can be delayed due to very high volumes.
If you still haven't got your package, we're really sorry. Just let us know on the
contact form
and we'll replace the order or refund in full. No quibbles.
I need to change my order
If you've already ordered, but need to
add
,
remove
or
change
any items – please leave a voice message on
07974 053 181.
You'll need to leave your
name and order number.
Then we'll be able to cancel it and refund you and you can re-order the correct items.
If the order has already left us, we'll just ask you to return it , before refunding you in full.


My delivery address has changed
If you need your order delivering to a different address to the one you gave – we may be able to change it, but be quick!
Leave a message on 07974 053 181 with your name, order number and address details, and we'll do our best.


I need to return an item/order
Please click here for information on returns and refunds.
If you still have a question for us – try our handy FAQ page.