Ladies Calvin Klein Logo Purse For Notes, Cards & Coins
£
49.00
100% of Reviewers Like this product
(based on 1 reviewers)
Read Reviews
Want to know how good the SockShop service is? Click Here to view our service reviews on Feefo
A smaller coin wallet than its sister product (
Ladies Calvin Klein Logo Wallet For Notes, Cards & Coins In 3 Colours
), measuring 5" x3.5", this wallet retains all the major features, such as the distinctive Calvin Klein signature jacquard fabric, featuring its all-over-CK monogrammed design, with sporty contrast piping and faux leather detailing throughout.
With a press-stud secured flap, the coin wallet opens up to reveal a fully lined and finished interior with an inner coin pocket, four credit card slots and an additional pocket for bills. As with its big sister, this attractive coin wallet comes to you fully gift boxed.
(10/11)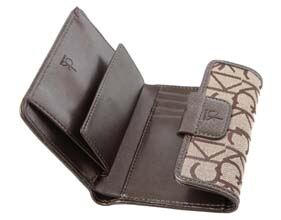 PLEASE NOTE: We can only deliver this item within the UK
Size: 5" x 3.5"
CK monogrammed fabric
Fully lined
Gift boxed
Complementary Styles You May Also Like ...
Reviews
from Feefo
100% of Reviewers Like this product (based on 1 reviewers)
| Date | Rating | Comment | Response |
| --- | --- | --- | --- |
| 01-May-2013 | ++ | I love the purse it's sad I need to returned it as its not the color I'm looking or to match my bag | |