SockShop.co.uk have teamed up with Sense, UK's largest organisation for children and adults who are deafblind or have associated disabilities. Last year Sense provided direct support to over 5,000 deafblind people and family members. 25% of the proceeds of each sock go directly to Sense!
Sense was founded in 1955 as a support group for parents of children with congenital rubella syndrome. Since then, the organisation has grown to be one of the largest UK charities supporting people who are deafblind or have associated disabilities.
Deafblindness (or dual-sensory-impairment) is a unique disability which brings enormous challenges to the individual and those who support them.
Deafblindness has many causes. It affects people of all ages in different ways, and no two deafblind people are the same.
Others will also have additional physical and/or learning disabilities as well.
So campaign and spread awareness with your feet and help change the world for deafblind people.
Registered charity: 289868
Please find below some Sense links:

Hover to Zoom
Sense Sock - Touching People's Lives. Working With Deafblind People .. 50p Goes to Sense
$
3.54
100% of Reviewers Like this product
(based on 1 reviewers)
Read Reviews
Special Offers
Multi-Buy - Buy any 3 SockShop items get 10% off buy any 6 get 20% off
Sense has a worldwide reputation for its expertise in working with deafblind people. We also work with people with single sensory impairments and a wide range of other difficulties - including physical disabilities, learning disabilities, and challenging behaviour. Sense works with a wide age range, from babies who have just been diagnosed to older people.
50p from the proceeds of each pair will go directly to Sense. Not only are you buying a great sock, but you are helping Sense enable deafblind people of all ages the chance to develop their potential to the full.
Make a difference today and spread the message with your feet. Sense, Touching People's Lives.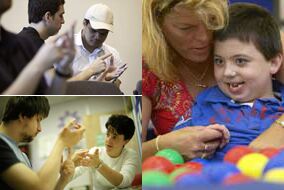 79% Cotton 20% Polyamide 1% Elastane
1 Pair Pack
Gentle Grip Cuff
Hand linked toes for smooth seams
50p from the proceeds of each pair will go directly to Sense
Reviews from Feefo
100% of Reviewers Like this product (based on 1 reviewers)
| Date | Rating | Comment | Response |
| --- | --- | --- | --- |
| 14-Nov-2012 | | Very good sock with no toe seems. Really comfy fit, will be buying more. | |