Ladies SockShop Heat Holder Slipper Socks
£
8.00
100% of Reviewers Like this product
(based on 16 reviewers)
Read Reviews
Product Is Packaged This Way
Only the originals will do!
Put your feet up at home in total warmth and comfort in this pair of ladies Heat Holder Slipper socks. With a massive tog rating of 2.34, these chunky socks are the ultimate in thermal slipper socks made from specially blended modern fibres creating a heavy bulk yarn with exceptional thermal qualities.

The inside of each sock has been intensively brushed, giving them a sensationally soft feel, while holding more warm air close to the skin therefore keeping feet warmer for longer.

The long pile cushioning and non slip grip on the soles will help keep feet protected around the home.

Freebie! You will receive a free sock bag when buying this sock. The SockShop boss loves wearing these socks when travelling but then needs somewhere to put them after wear, this is when the sock bag comes in really handy. We will pop a free sock bag into your order when you buy these socks.
Please note this will not appear online but will be included in your parcel. One per order.
Copied by many. Equalled by none.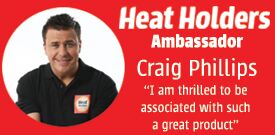 Heat Holders... only the originals will do! Copied by many. Equalled by none.
91% Acrylic 5% Nylon 3% Polyester 1% Elastane
1 Pair Pack
Normal seamed toes
Reviews
from Feefo
100% of Reviewers Like this product (based on 16 reviewers)
| Date | Rating | Comment | Response |
| --- | --- | --- | --- |
| 02-Apr-2013 | | Nice and warm again! | |
| 20-Feb-2013 | | Does what it says on the label. Warm and cosy. Do not slip. | |
| 26-Jan-2013 | | good fit, very warm and non sllip, | |
| 24-Jan-2013 | | My wife likes them which makes them Ok by me. | |
| 18-Jan-2013 | | Brilliant! Two octogenarians now devotees after trying a pair of mine. | |
| 25-Dec-2012 | | Good product although I think they fit quite loosely and I do not have small feet but they are fine with ordinary socks worn underneath. | |
| 20-Dec-2012 | | they look great. Only possible negative is size, would be good to have smaller range in size to make sure fit is perfect. | |
| 18-Dec-2012 | | "Does what it says on the tin" | |
| 18-Dec-2012 | | warm and comfortable, easy to carry | |
| 14-Dec-2012 | | Wow they keep your like toast | |