Got a question? Get instant answers: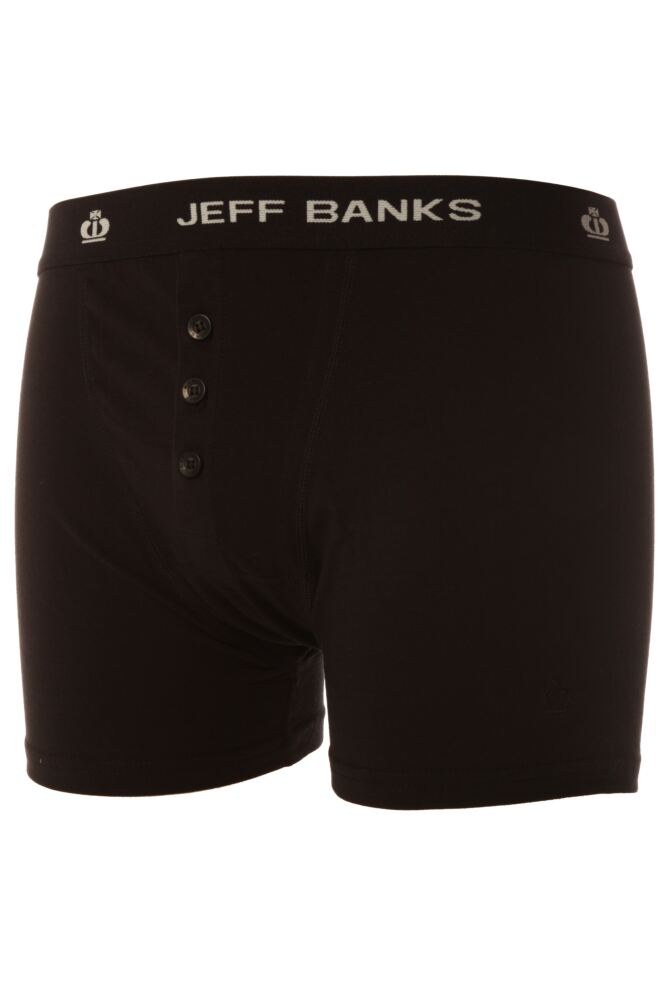 Hover to Zoom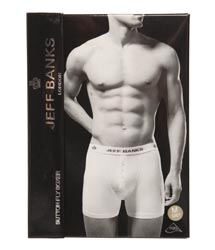 Product Is Packaged This Way
Mens Jeff Banks Leeds Buttoned* Cotton Boxer Shorts
90% of Reviewers Like this product
(22 reviews)

Read Reviews
Jeff Banks Underwear & Socks

90% of Reviewers Like this product
(based on 22 reviewers)

Read Reviews
Product Information
These plain, super smooth, cotton rich 1 pair boxer shorts have been developed by renowned designer Jeff Banks for a superb fit and a cutting edge, contemporary look.

The 95% Cotton content means that they absorb moisture for greater comfort, while the buttoned flap opening is practical and the athletic fit gives all day support and comfort, no matter how hard you work or play.
(06/11)
*Product may have 2 or 3 Buttons

95% Cotton 5% Lycra
1 Pack
Elastic waistband & close fit knitted cotton
Buttoned Fly
Reviews
Reviews
from Feefo
90% of Reviewers Like this product (based on 22 reviewers)
Date
Rating
Comment
Response
09-Aug-2015
Not as described. The picture clearly shows the longer leg 3 button fly boxers and I received the 2 button shorter leg boxers.
Very disappointed as these do not fit as well and are uncomfortable. I would not have ordered if I had known they were the 2 button ones!
22-Jul-2015
The picture did not represent the actual product ie 2 buttons not 3 - shorter not longer style as described. Very poor - on-line customers have to use the picture it must be accurate,
21-Jun-2015
good.
21-May-2015
Great value, price is excellent if you take advantage and order enough to qualify for the offer price, they are very good quality, and the only ones my husband will wear.
08-May-2015
There simple the best boxers around.
Have tried many others and other Jeff banks boxer and they aren't as good as LEEDS boxers. Excellent value for money too.
08-Apr-2015
Excellent quality. Have bought exclusively for years.
25-Mar-2015
Great price in comparison to High Street - will use again
28-Feb-2015
Very pleased with the boxer shorts, sizing was spot on!
04-Feb-2015
Good fit
27-Jan-2015
Wish I could find them in Canada.

Special Offers
Jeff Banks Multi-Buy - Buy Any 3 Jeff Banks Products Get 10% Off Buy Any 6 Get 20% Off
These plain, super smooth, cotton rich 1 pair boxer shorts have been developed by renowned designer Jeff Banks for a superb fit and a cutting edge, contemporary look.

The 95% Cotton content means that they absorb moisture for greater comfort, while the buttoned flap opening is practical and the athletic fit gives all day support and comfort, no matter how hard you work or play.
(06/11)
*Product may have 2 or 3 Buttons

95% Cotton 5% Lycra
1 Pack
Elastic waistband & close fit knitted cotton
Buttoned Fly
Reviews from Feefo
90% of Reviewers Like this product (based on 22 reviewers)
Date
Rating
Comment
Response
09-Aug-2015
Not as described. The picture clearly shows the longer leg 3 button fly boxers and I received the 2 button shorter leg boxers.
Very disappointed as these do not fit as well and are uncomfortable. I would not have ordered if I had known they were the 2 button ones!
22-Jul-2015
The picture did not represent the actual product ie 2 buttons not 3 - shorter not longer style as described. Very poor - on-line customers have to use the picture it must be accurate,
21-Jun-2015
good.
21-May-2015
Great value, price is excellent if you take advantage and order enough to qualify for the offer price, they are very good quality, and the only ones my husband will wear.
08-May-2015
There simple the best boxers around.
Have tried many others and other Jeff banks boxer and they aren't as good as LEEDS boxers. Excellent value for money too.
08-Apr-2015
Excellent quality. Have bought exclusively for years.
25-Mar-2015
Great price in comparison to High Street - will use again
28-Feb-2015
Very pleased with the boxer shorts, sizing was spot on!
04-Feb-2015
Good fit
27-Jan-2015
Wish I could find them in Canada.
1 2 3 Next Last