08000 195 667
FREE ORDER HELPLINE 8am-5pm, Mon-Fri
FREE UK STANDARD DELIVERY & GIFT
WHEN YOU SPEND £30 OR MORE
Posted 30th April 2015 by Danielle
Transitioning your trends can be tricky around spring time when the weather can't make up its mind and the temperature's up and down like... well like something less cliche than a yo-yo. We've crafted some between-season sock style tips using our beloved bamboo - the naturally antibacterial and absorbent, incredibly soft, environmentally friendly holy grail of sock fibres...
Read More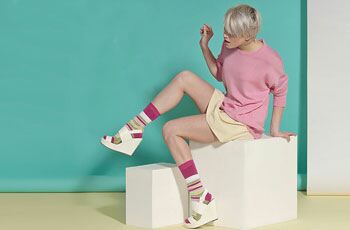 Posted 14th April 2015 by SockShop
When we exercise, we put our feet under strain that they're not normally accustomed to. Increased friction, impact and sweat can all take their toll on our feet, resulting in blisters, corns, calluses and even stress injuries. While the importance of proper sports shoes is common knowledge, it's less widely known that a good sports sock can be just as crucial. In fact, experts say that the second main cause of workout related foot problems is wearing the wrong socks. Not only does the latest sock technology protect your feet from issues such as blisters, but they can even improve your performance. Here's the science behind the socks...
Read More