The most inspiring London Marathon stories
Posted 17th April 2018 by SockShop
The 26-mile London Marathon is a challenge for any runner – even those who have trained for years. But for some, running the marathon is more than just a personal achievement – it's a way to raise money for a dearly-held cause, or to celebrate finishing something they never thought they'd complete. There are hundreds of inspiring London Marathon stories – so many that it's impossible to list them all. These tear-jerking stories are just a start. Warning – keep your tissues handy…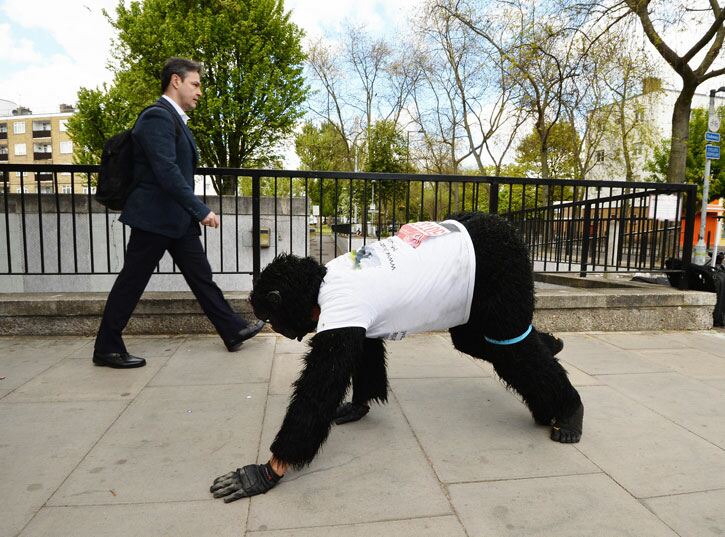 Gorilla man Tom Harrison crawls the marathon
Remember the guy in the gorilla suit at the 2017 marathon? His name was Tom Harrison and, accompanied by his two sons (also dressed in gorilla costumes, of course), he completed the marathon crawling on his hands and knees in six days.

The unlikely hero rubbed his knees raw as he crawled around 4.5 miles a day, stopping only to collapse in friends' beds overnight as he made his way around the course. The whole thing sounds rather bizarre, but it makes sense in the end: the policeman raised a huge £23,900 for the Gorilla Organisation, which works to help communities near gorilla habitats and combat poaching.

Paralysed Claire Lomas becomes the first person to run in a bionic suit
If you need a sign that nothing is impossible, this inspiring story is it. Claire Lomas, a former chiropractor who was paralysed from the chest down following a horse-riding accident, completed the London Marathon in 16 days in 2012. She was the first person to don a bionic ReWalk suit to walk the marathon.

Lomas was greeted by a crowd of people and three mounted members of the Household Cavalry as she crossed the finish line, and Richard Branson's daughter Holly awarded her with a trophy for endurance. Lomas raised a massive £86,000 for Spinal Research, a charity that aims to combat paralysis through research.

Phil Packer crosses the finish line after being told he'd never walk again
As Major Phil Packer crossed the marathon finish line 13 days after the start in 2009, crowds gathered to watch him receive his medal. The former soldier had achieved something very special indeed – he'd completed the 26 mile course just one year after being told he'd never walk again.

Packer lost the use of his legs in a rocket attack in Iraq in 2008, but his determination led him to defy the doctors' predictions and complete a marathon. He aimed to raise £1 million for military rehabilitation facility Headley Court, which treats injured soldiers returning from Afghanistan. By the time he crossed the line, Packer only had £380,000 left to raise.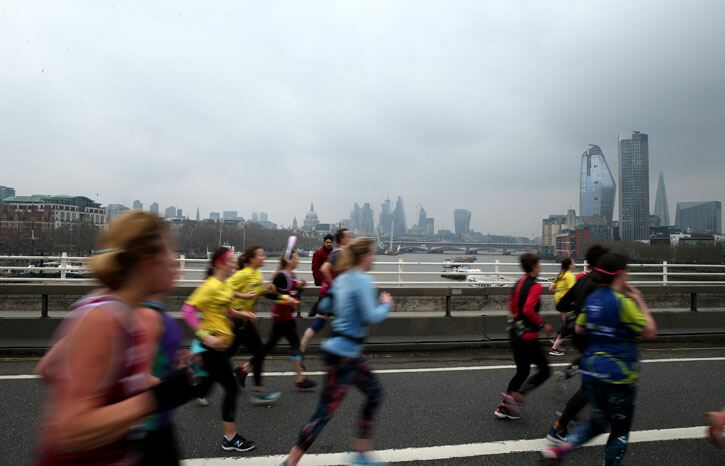 Stuart Eggleshaw completes his first marathon after losing 22st 9lbs
Heroic feats don't have to result in hundreds of thousands of pounds, as Stuart Eggleshaw shows when he ran the marathon in 2016. Stuart was involved in a car accident that prompted him to re-evaluate his life and his health, resulting in the weight loss hero dropping an incredible 22st 9lb through a mixture of walking, running and joining his local slimming club.

Since then, Stuart has completed a 10k race, three sprint triathlons, a half marathon and, finally, his first full marathon at the age of 44. He donated the money he raised to Cancer Research UK, which he called 'a great opportunity to raise money whilst remembering my mum and all that she meant to me.'

Jackie Scully ditches a wedding do to raise money for breast cancer care
From gorilla suits to wedding dresses, marathon runners come in all forms, and newlywed Jackie Scully was one of the thousands of people who lined up to run the 2017 marathon. Jackie was diagnosed with breast cancer just days after her husband Duncan proposed to her, and the lead-up to her wedding was filled with chemotherapy and reconstructive surgery.

Running was a huge part of Jackie's recovery and she wanted it to be a part of her wedding day. After the happy couple said their vows on the Cutty Sark, they – accompanied by Jackie's dad – headed to the start of the marathon to run, in full wedding attire, for two cancer charities – Willow and Breast Cancer Care.