Guest Blogger: S of 'Girly Things and Glitter'
Posted 22nd August 2013 by Danielle - courtesy of S

Since our last guest blogger was so fabulous, we thought we'd give another blogger a shot and give you another helping of guest blogger-ness, this time courtesy of S from the lovely Girly Things and Glitter!
Take it away, S!



"I've been looking at sock trends seeing what everyone has been buying, wearing and loving.

I've found that a lot of people are loving the socks with a bit of extra!

What I mean by this are socks that have bows, tassels, Pom poms and even feathers on them.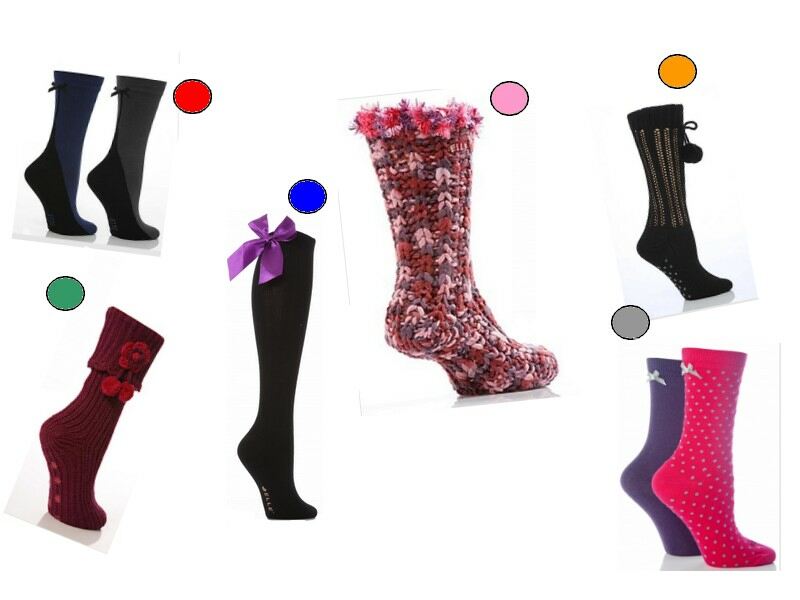 This collage of the socks is made up from;
Pink - Elle Knitted Bootie - £6
Orange – Urban Knit Slouch Lounger Socks - £10
Green – Elle Ladies Chunky Bootie Sock with Daisy Detail - £7
Red – Elle Back Seam and Bow Socks - £5
Blue – Elle Bamboo Rib and Satin Bow Socks - £6
Silver – Elle Plain and Dotty Cotton Socks with Bow in 3 colours - £6
All of these lovely socks can be found on the SockShop website.
I'm a bit of a girly girl so I love ones like these and own a few too! So which ones do you all prefer?

How I'd style them;
So here's a few ideas of how I would style the socks with different outfits.
For the Elle Knitted booties, these would be perfect over the top of leggings with a long woolly jumper and tee.
For the Elle Bamboo Rib and satin bow socks, you could go for a more rocky look, with a vest, denim mini skirt and a leather jacket.
The Elle Plain and Dotty socks, I'd style them with a dress, perhaps of a similar colour to the socks, and finish off with a pair of ballet pumps.
Which look would you go for?"


Socks with a bit of something extra! Thanks S!