7 fantastic festive flicks
Posted 19th December 2018 by SockShop
What better way to get ready for the big day than curling up in front of the TV with a mince pie, some mulled wine, and a good Christmas movie?

With so many out there to choose from, we've put together seven of our Yuletide favourites to get your Christmas spirit soaring…

The Muppet's Christmas Carol (1992)
Charles Dickens' classic gets the Muppet makeover treatment in one of the best retellings of the famous tale around. Michael Caine plays the cold-hearted Ebenezer Scrooge who strikes fear into Victorian London before seeing the light on Christmas Eve. Kermit plays Bob Cratchit, while Gonzo the Great turns his hand to playing Charles Dickens himself.

Home Alone (1990)
It doesn't get much more festive than this — an 8-year-old boy getting abandoned by his family and then having to protect himself and his home from a couple of clueless burglars. A young Macaulay Culkin steals the show as madcap festive hilarity ensues, and if you fancy a double-header then the sequel set in New York is a cracker too.

Love Actually (2003)
Richard Curtis's all-star ensemble rom-com plays out the countdown to Christmas through the lives and relationships of of a group of people living in London. We love everything about it, from Hugh Grant's hip Prime Minister to the nativity scene with lobsters and octopuses. And who doesn't sing along to "Christmas is all around" when it comes on screen?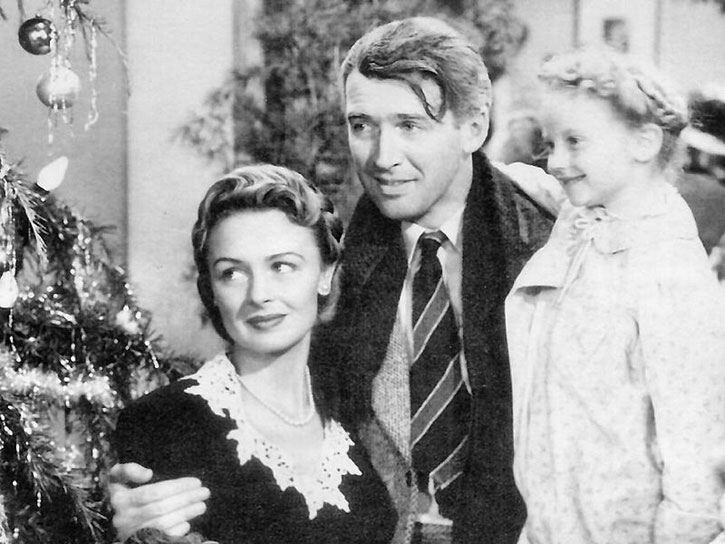 It's a Wonderful Life (1946)
Perhaps an unlikely Christmas classic, It's a Wonderful Life tells the story of George Bailey (James Stewart) who is contemplating suicide on Christmas Eve before his guardian angel intervenes and shows him how different his community would be had he never been born.

Bad Santa (2003)
A Christmas movie with a difference, Bad Santa is a black comedy that will make you take another look at the festive season. Billy Bob Thornton stars as a shopping mall Santa who uses the holidays as cover to pull off elaborate department store heists, while Bernie Mac plays the mall detective determined to bring him down.

The Snowman (1982)
Based on Raymond Briggs' wordless children's book of the same name, this Oscar-nominated film tells the story of a young boy called James whose snowman comes to life one night. Together, the pair take flight across Brighton to Norway, where they see the Northern Lights, other magical snowmen, and, of course, Father Christmas himself.

The Santa Clause (1994)
TV funnyman Tim Allen stars as hapless divorced dad Scott Calvin who accidentally knocks Santa Claus off his snow-covered roof on Christmas Eve. In doing so, Scott enacts the Santa clause, meaning he has to don the red suit, move to the North Pole and become Santa when Christmas rolls around next year.