The best Netflix Christmas hidden gems
Posted 3rd December 2019 by SOCKSHOP
Why carol sing in the cold, when you could curl up and stream Christmas spirit straight into your home, with our pick of Netflix's popular and peculiar festive films…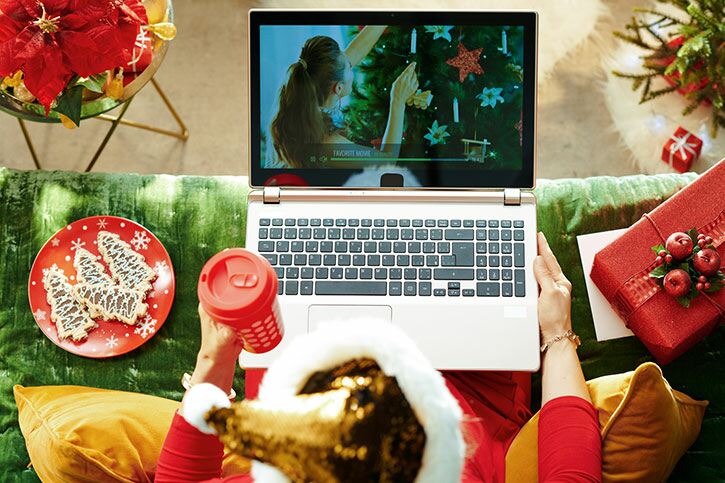 Klaus

This Netflix feature returns to the glory days of hand-drawn animations for a visually pleasing Santa Claus origin story. Forget Elves and Lapland, Klaus tells the tale of the immensely irritating postman, Jesper, sent to postage purgatory with the impossible task of delivering 6,000 letters in a year. Will a chance meeting with a bearded toy-maker change his fate?
Black Adder's A Christmas Carol

Ebenezer Blackadder transforms from a boiled-sweet-giving (humbugs of course) businessman, into a fork-tongued miser in a parody of the Dickens classic. The TV special earns its place on the list for those who prefer their festive entertainment on the wry side of life.

Angela's Christmas

A Netflix animation based on children's book 'Angela and the Baby Jesus'. The 30-minute short is set in 1914 Limerick, Ireland where a visit to church on Christmas Eve sparks an idea in young Angela. How will she ensure that her family feels safe, warm and loved at Christmas?
A Christmas Prince

The weirdly watchable 'A Christmas Prince' has now become a trilogy. Why not start where it all began, with this tale of a journalist sent to the fictional Aldovia for a scoop on a playboy prince? The 'so bad that it's good' film has earned a cult following and Netflix even reported 53 of their viewers had streamed it for 18 days in a row.
Arthur Christmas

Meet Arthur, the bumbling yet endearing son of Christmas' most famous father. His sibling Steve is a smooth but cynical part of Father Christmas' toy-delivering operations, who lacks the festive spirit of his brother. When news reaches the family that a present has gone astray, it's up to Arthur and Grandsanta to make amends with a sleigh that's seen better days. With an all-star voice cast, this will quickly become a festive favourite.
The Man who Invented Christmas

With the success of Oliver Twist waning and a fifth child on the way, Charles Dickens needs another bestseller. The man who invented Christmas imagines the author wrestling with writer's block and scribbling ideas about Scrooge as he quills the classic A Christmas Carol, starring Dan Stevens (
Downton Abbey, Beauty and the Beast
) as Dickens and Christopher Plummer (
The Sound of Music, All The Money In The World
) as his Scrooge brought to life.
Let it Snow

Hitting subscribers' screens just last month, this adaptation of the novel by the same name is a rom-com which tells the story of a group of students brought together by a snowstorm. Expect a stolen keg, a team of competitive dancers and a mysterious woman in tin foil to change the face of Christmas morning (and their love lives) forever.
Daddy's Home 2

Will Ferrell may be better known for his stint as Buddy the Elf, but his spell as Brad Whitaker alongside Mark Wahlberg shouldn't be overlooked. The 'co-dad' team of Brad and Dusty have reached parenting perfection together, at least until their own fathers pay a visit for Christmas.