Mardi Gras celebrations around the world
Posted 18th February 2020 by SOCKSHOP
Mardi Gras or 'Fat Tuesday' in French, is often treated as a big blowout before the discipline of Lent and falls on the 25
th
February this year.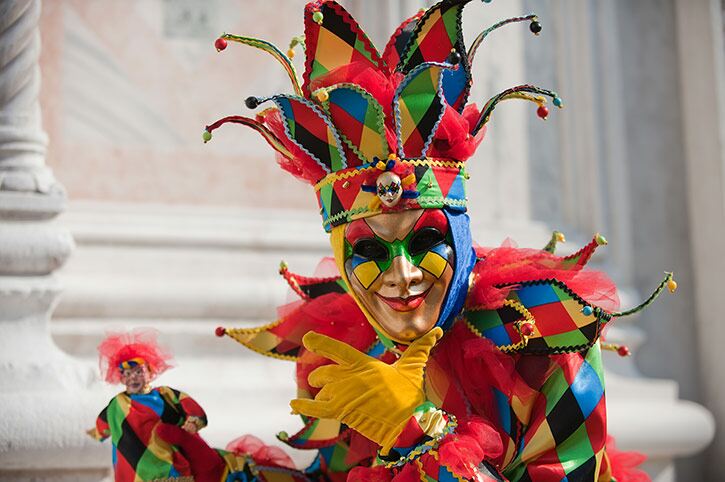 We decided to take a look at how the world celebrates…
Carnaval in Brazil

The biggest celebration on our list has outgrown a single day of revelry, as festivities at Rio's 'carnaval' have grown and grown since 1723. For around two weeks unofficial street parties, or 'blocos', take over neighbourhoods that border the famous Copacabana beach and are watched over by the famous Christ the Redeemer statue. The world's largest party comes to a colourful climax at the Sambadrome, a half-mile long arena dedicated to parading floats and samba dancers.
Masquerade balls in Italy

Mardi Gras is celebrated across Italy but the most famous fixture has to be the Venetian Carnival. Expect masquerade balls filled with revellers in traditional masks, originally designed to conceal the wearer's identity and give way to hedonistic pursuits. Choose your mask or 'maschere', wisely if you want to make the right impression. Perhaps the bell-covered jester suits your party mode or the Dama, worn by an elegant female.
Floats and beads in New Orleans

Over one million revellers descend on New Orleans' French Quarter for 'Fat Tuesday'. Despite its reputation, there's more to the celebrations than a love for beads and booze as some of its longstanding traditions prove. Krewes are the teams behind the lavish floats and processions that parade through the city and like many other Mardi Gras fans they're often found masked up in the middle of the party. Look out for the king of the Rex krewe, generally considered the king of Mardi Gras.
A march of local men in Belgium

The Walloon region of Belgium is home to the march of the Gilles. A thousand local men take to the streets of Binche each year to wave sticks at evil spirits while throwing oranges at the crowd to dish out good luck. The crowd are showered with fruit from locals dressed in moustached masks complete with green goggles, an eerie sea of bodies said to represent the bourgeoisie during Napoleon III's rule.
Pancake Day across the World

Of course, there is one more way to mark Shrove Tuesday, the much-loved Pancake Day. Emptying cupboards of indulgent foods before Lent is custom across many countries but can look slightly different depending on where you spend the day. In Newfoundland, Canada, objects with symbolic value are cooked into pancakes, find a coin in yours and you can expect to get rich soon, according to tradition. Meanwhile in Australia, pancakes are generally thicker and served cold with butter, jam or cream.