Sock trends we'd rather forget
Posted 2nd January 2018 by SockShop
We all know those fashion trends we wish would stay in the past. From shell necklaces to double denim, there's plenty of looks from previous decades that everyone agrees should never see the light of day again.

But one retailer has made waves recently with a rebooted fashion that certainly divides opinion: vinyl socks. The shiny, PVC-like material – once reserved for celebrity parties in the 1990s – is back in all forms, from trousers to trench coats, and now you can even clad your feet in the material, too.

Whether you love the socks or you wouldn't touch them with a bargepole, they're a reminder of some of the trends that are best left behind…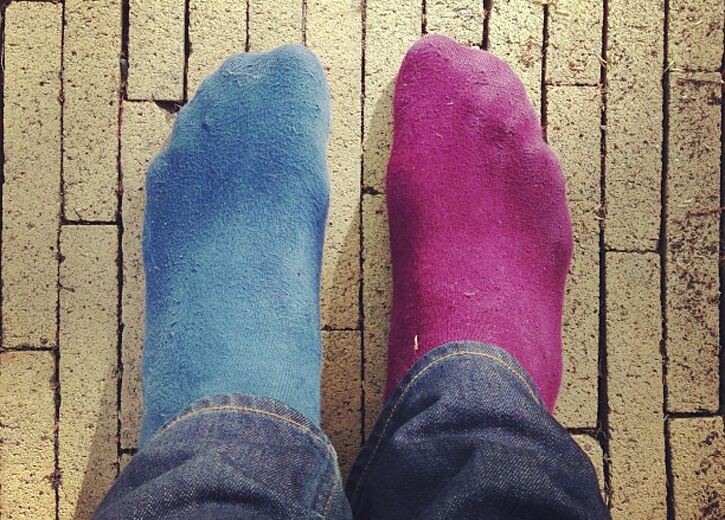 Mismatched socks
You'll be forgiven for accidentally putting on a couple of odd socks when you're in a rush in the morning, but intentionally mismatched socks have crept their way onto the catwalk in recent years, too. We think this is a trend that's definitely best left behind. Need an alternative? Get on board with statement socks instead.

Distressed socks and tights
Once relegated to the realms of grunge and rock, distressed materials have slowly made their way into fashion over the last couple of decades, starting with jeans and spreading to jackets and even hosiery. There's a reason most people buy a new pair of socks when their old ones get worn in – holey socks are never a good look.

White socks and black trousers
Unless you're a Michael Jackson lookalike or you're channelling the 1950s, the white socks and black trousers combo is best avoided. The flash of white whenever you move your leg makes it seem like you're about to spring into a moonwalk. Make a smart statement with navy or argyle socks instead.

No socks
Whether it's boat shoes or ballet flats, there's always one pair of shoes that it's impossible to wear socks with. The result? Sticky, uncomfortable feet. Luckily, there's plenty of options to help you combat the sweat without dropping the style stakes. From moisture-absorbing bamboo socks to barely-there shoe liners, there's a sock style to suit every situation.