The UK's most picturesque beaches
Posted 31st July 2019 by SockShop
With over 12,000km of breath-taking coastline, the UK has some of the world's best beaches. But which ones should you be adding to your Instagram feed next?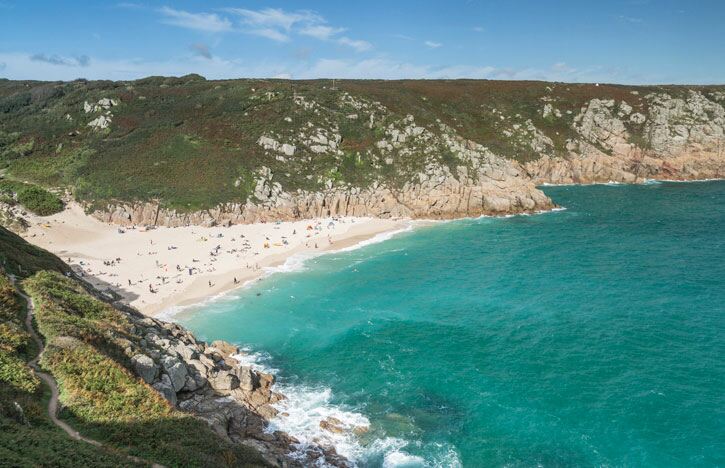 Portcurno Beach, Cornwall

Porthcurno Beach, Cornwall
Often called one of Cornwall's best-kept secrets, the secluded Porthcurno Beach is a favourite for families and beachgoers in the know. Wedged into the coastline, the white sands and turquoise waters look more like a Greek island than an English beach, while cut onto the nearby clifftops is the dramatic Minack Theatre.

Woolacombe Beach, Devon
The star attraction on the popular North Devon coastline, the sweeping Woolacombe Beach is a firm favourite with families and surfers alike. Woolacombe itself has a laid-back surfer vibe, while the sheer size of the beach means you'll also find your own little slice of seaside relaxation no matter how busy it gets.

Lulworth Cove, Dorset
English beaches don't come more postcard-perfect than Lulworth Cove, the crescent-shaped bay on the rugged Dorset coastline. Protected from the roughness of the English Channel, the cove's turquoise waters are an idyllic spot and, if that isn't enough, the rocky archway of Durdle Door is just a stone's throw away.

Rhossili Bay, Gower

Rhossili Bay, Gower
If you're after a beach with spectacular sunsets look no further than Rhossili Bay on the Gower Peninsular. Despite its remote location, Rhossili has established itself as a must-see attraction, with its sandy beach and unspoilt views out towards the nearby headland, Worms Head, named after the Viking word for dragon.

Scarista Beach, Harris
With its white sands, crystal clear azure waters and completely unspoilt setting, Scarista on the island of Harris is perhaps the UK's most breath-taking beach. It might not be one you can simply pop down to on a whim – it's an eight-and-a-half-hour drive north of Glasgow without stopping – but it'll be well worth it when you get there!

Seacliff Beach, East Lothian
If Scarista is a little far, why not check out Seacliff in East Lothian? Just a 45-minute drive along the coast from Edinburgh, Seacliff is a mix of windswept tumult and sun-kissed sands with a clutch of rockpools that are ripe for inquisitive little ones (and big ones!) to explore with buckets and spades.

What's your favourite UK beach? Let us know in the comments!