How to create your own outdoor cinema
Posted 13th July 2020 by SOCKSHOP
Follow our straightforward steps to host your own secluded cinema.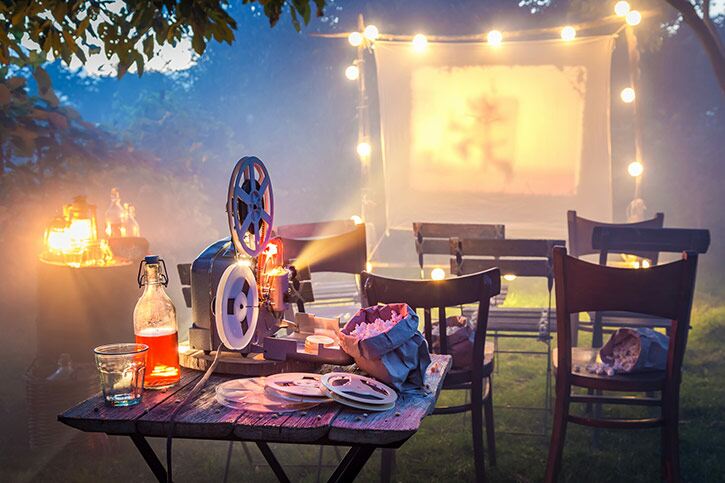 1. Find the perfect spot
Your outdoor cinema should be in a dry area of your garden and well sheltered from the wind, so the elements can't spoil your screening. Where possible choose the end of the garden, or an angle on your balcony furthest away from your neighbours to minimise disruption. Finally, consider space for seating, you'll need enough room for furniture that will keep you and other film fans comfortable for a couple of hours.

2. Invest in a projector
Decent quality projectors have become increasingly affordable and the latest models even work well in brighter environments. Look out for units with a high lumen measurement to deliver the best quality picture when outdoors. The throw ratio, or distance between your projector and screen is crucial too. Once you've decided on the size of your screen you can shop around for projectors that work well within your outdoor space.

3. Connect your video and audio
HDMI ports will allow you to hook your laptop, Blu Ray player and any Amazon Fire TV or Apple TV devices directly to your projector. When your video source is sorted you'll need to set up your audio. You can connect your projector to a speaker through a 3.5mm jack, or look out for Bluetooth projectors for a wireless connection. This is also a great option if you want to use Bluetooth headphones to avoid disturbing your neighbours.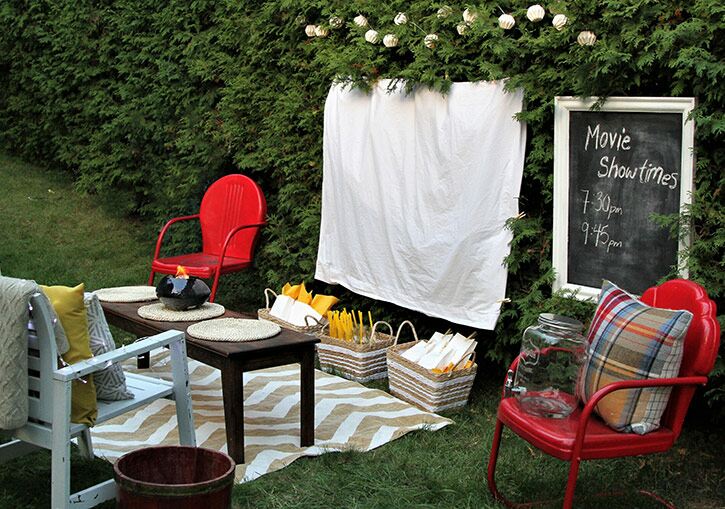 4. Set up your screen
Pegging a white sheet to your washing line is the easiest way to set up a screen. However, you'll need to weigh the bedding at the bottom to prevent your film from flapping in the wind. If you'd prefer a more professional finish you can try building a timber frame and using screw hooks to stretch blackout lining in a fixed position. You can pick up the material from any good haberdashery store on the high street.

5. Add the finishing touches
Once your projector and screen are ready for viewing it's time to find the chairs, cushions and blankets you'll need to settle down for the night. Make sure everyone has a clear view of your jumbo-sized screen and no one's sitting on a damp or rocky surface. The only thing left to do is feed your friends and family. Best of all, you can pick up your popcorn and pick & mix for a fraction of the cost of the cinemas.