Wedding socks - something bold, something new, something stripy, something blue?
Posted 6th March 2013 by Katrina
If you are a frequent follower of Heat Holders hat and gloves at the time!).
As the big day approaches, and the to-do list becomes shorter, I am able to turn my attention to something rather important – socks. Not for me obviously - I don't think a pair of stripy Pringle socks poking out from under my dress would create the right look – but for my lovely husband-to-be and the men in the wedding party.
It would appear that I'm not alone in giving some consideration to what the groom's party wears on their feet; apparently there is a trend emerging of the groom and his guys rockin' funky socks. So I thought I'd take a look at the different sock options that fellas have when it comes to their big day.





Option one – matchy matchy

Matching colours is a task many brides and grooms are familiar with. The tradition often sees the flowers, bridesmaid dresses, invitations and decorations tied together with familiar shades and hues, and the same can be said for the socks.

I know I'm biased, but because of SockShop's vast range, it's the perfect place to match up the groom, best man, ushers and father of the bride's socks to their ties and buttonholes. My dad in particular is pretty keen to go matchy matchy, so I've picked out these fab Burlington Preston extra soft feeling Argyle socks, which will match well with the tie he's wearing.




Burlington Preston Extra Soft Feeling Argyle Socks
Option two – colours of the rainbow
This is a popular one for the groom and his guys who like to stand out and make a statement by each wearing a different shade of socks. On the whole, men's formal wear for a wedding is quite traditional, with neutral colours and smart tailoring. So what better way of showing off style and personality then with a flash of colour noticed every now and then as they walk around mingling with guests? SockShop's Colour Burst socks are ideal for these guys, with eye-popping shades including mustard and clementine available.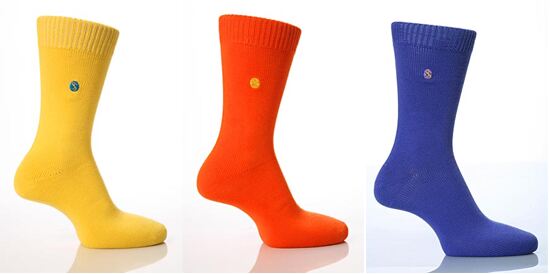 Option three – simple and stylish

Black definitely does not equal boring, and black socks are a great bit of reliable kit on a day that has the potential to be full of surprises!

Black socks also seem to be the staple colour of high-end brands, so if grooms are wanting to adorn their feet in good quality socks, then check out the black socks available from John Smedley.

Keeping it simple and stylish also means that nothing detracts from their suit and tie, which I'm sure will look sharp and smart.




John Smedley Delta Plain Ribbed Cotton Socks
So there you have it! In terms of what my other half will do about his wedding day socks, he's still to decide, but whatever he picks I'm sure he'll look great!
Katrina x