The coolest celebrity mums to celebrate Mother's Day
Posted 22nd March 2017 by SockShop

Yes, celebrity mums often have it a lot easier than the rest of us. But that doesn't mean they're all as cool as each other. Some make the extra effort to balance work and family life, while still staying cool…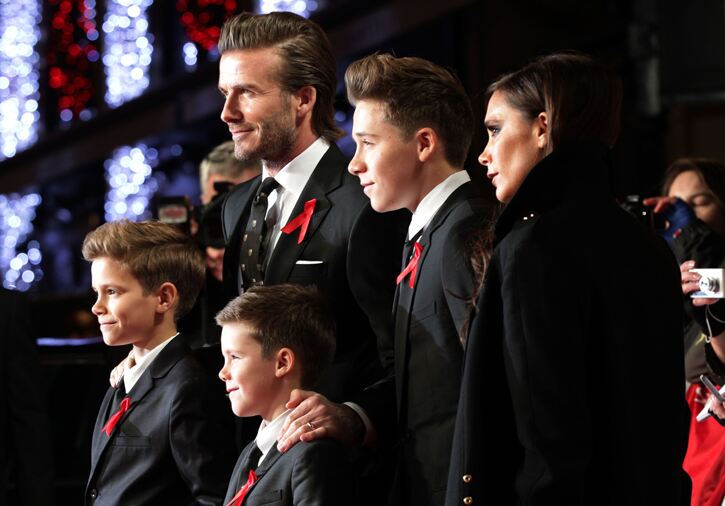 Victoria Beckham with almost all the Beckham clan. Yui Mok/PA Wire.

Victoria Beckham
Not only is she half of the one of the coolest couples on the planet, but she's also moved from being in the biggest girl group of all time, to being a hugely successful fashion designer.

She and David have also raised four kids at the same time. Even with nannies to help, four kids and a career is tough to manage.

JK Rowling

We know her as the author of all things Hogwarts, but back when she was simply Joanne Rowling she struggled to get by.

As a single mum of a two-year old she could have taken the route of giving up on her dreams to focus on making ends meet. But she kept dreaming and writing, while raising a toddler, and producing a little book you might have heard of.

In fact, she's always found time for her kids, stopping work on Harry Potter and the Half-Blood Prince to raise her second child David.

Chrissie Teigen
Once known as a model for the likes of Sports Illustrated, these days you'll probably associate her more with being the coolest and sharpest mum on social media.

Her open and honest chat about being a parent has found her a new wave of followers.

And she doesn't pretend to know it all. Recently she said she can be the mum she is because she can afford help. She also opened up about her postpartum depression in a recent issue of Glamour magazine.

Michelle Obama
The former First Lady is also a first rate mum. When in the White House, she often jokingly referred to herself as 'mom-in-chief'. This was due to the large part her children played in presidential life, but also for her work helping disadvantaged children.

You need only look at how Malia and Sasha have turned out to see that she can truly balance work and family life.

Anna Faris
Half of the cutest couple around, Anna Faris, with occasional help from husband Chris Pratt, often shares her stories and life as a mom on social media and through her own podcast, Anna Faris is Unqualified.

Always honest and open, expect to her to be discussing everything from stretch marks to pelvic floors.

Jennifer Garner

One of the big issues with being a celeb mom is the constant media attention. The temptation is to get someone else to do the day-to-day stuff like school runs.

But this has never affected Jennifer Garner who has often been snapped looking like every other mum dropping her daughters off at school. Few celebs show such dedication to normality than Jennifer Garner.