5 ways to get your kids involved with spring cleaning
Posted 10th March 2020 by SOCKSHOP
Forget working around the kids to complete your spring clean. Get them to muck in, with our handy tips…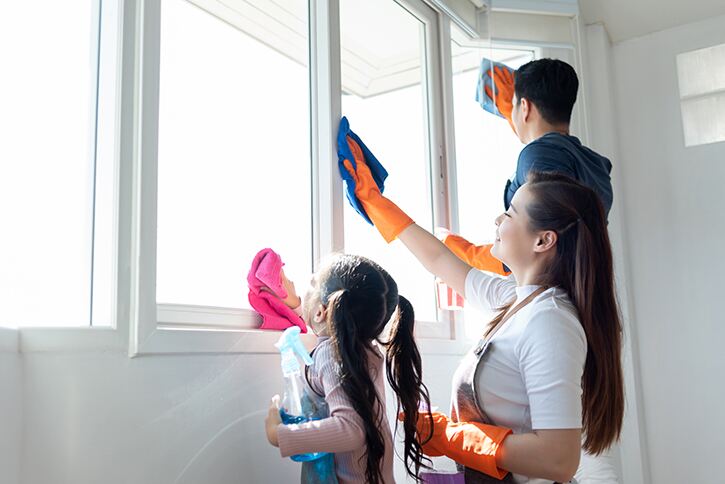 Write everything down
Involve your kids from the start by writing down everything that needs to be done together. The little ones could even make suggestions of their own. Could you declutter a surface to make way for desk space to get creative, or perhaps a games console and TV? Nothing beats letting everyone know what's expected and working your way through the list together.

Add incentives
A star chart or reward system is a great way to encourage good behaviour but also the perfect tool to encourage your kids' cleaning. Could you offer ice cream or sweets in return for an hour's scrubbing and sorting? Perhaps some extra time on a tablet or games console will convince an older child to help declutter.

Whistle while you work
Whether it's in the gym or focusing in front of a laptop, music has probably played its part in getting you over the line with a task at some point. Pumping music is sure to have the same effect on your kids' productivity too. Soundtracking your spring clean can not only motivate your helpers but lift the mood (and convert you to Justin Bieber).

Create competitions
Recruiting more than one young spring cleaner not only lightens the load but offers the perfect opportunity to set up competitions between the little ones. Who can sort their sock drawer fastest? Who can load the dishwasher quicker? Lay down the gauntlet and let bragging rights speed up your clean up.

Play to your kids' strengths
No one knows their kids like you do and dishing out the chores according to personal taste is bound to help getting them on board. Perhaps one of your spring cleaners enjoys organising and another prefers to get hands on and scrub. Delegate tidying that busy bookshelf or spraying grubby windows accordingly and the jobs will be done in no time.