Top 10 spring/summer tights
Posted 15th May 2015 by Danielle
So it's still a little chilly out even though it's May (like, seriously, can somebody have a word with the powers that be?!) and we're somewhat lacking in a little vitamin D from Mr Sunshine, so tights are most definitely still on the cards. But whoever thought tights were just for winter clearly hasn't seen our GORGEOUS spring/summer collection. We've picked out our top 10 tights for the season whether you're keeping it casual day to day, or painting the town at night...
Daytime delights



add a sunkissed glow
.
Sheer tights maintenance -

TOP TIPS

:
As much as it pains us and as much as we try to avoid it, sometimes there's no stopping holes and ladders in our tights, and sheer tights are more susceptible than others. Here are a couple of things you can do to try and avoid getting laddered!
Take care from the very start and use a when putting on your sheer tights or stockings;

When wearing sheers, keep a bottle of clear nail polish in your handbag. If you spot a hole, dab a little of the nail polish around the edges of the hole (take care not to paint your leg!) to avoid the hole becoming a ladder, or to stop a ladder spreading.

If you don't have any clear nail polish, hairspray will work too - though take care as some hairsprays may leave white marks on black hosiery.
Our selection of 5 daytime tights includes essential basic sheers, as well as clever variations on the classic style.
| | | |
| --- | --- | --- |
| SockShop 10 Denier Classic Nylon Tights | | Pretty Polly 8 Denier Sun Oil Sheen Tights |
| | | |
| Team this timeless classic in Black with a smart skirt for work or a dress for a casual evening out. Also available in 5 other tones. Click here to shop. | | No need to hop on that plane, dare to bear your legs and achieve a gorgeous sunkissed glow with these sun oil sheen tights from Pretty Polly. |
Pretty Polly 8 Denier Sandal Toe Tights

Pretty Polly 8 Denier Open Toe Tights

The ideal style if you're channelling K-Middy in a pretty dress and a pair of peep toe wedges this summer, with 'no seam' sandal toes. Click here to shop.

Another stroke of genius from

toeless tights, allow a flawless leg look AND a chance to show off your pedicure - winner!
Pretty Polly Pretty Barking Mock Hold Up Tights

Adding a wild side to a cute casual dress or denim skirt, bunny too - love love LOVE!
Night-time glam


There's nothing quite like turning heads in an outfit and we LOVE making a statement in a pair of back seam tights to finish off that fabulous frock at a friend's wedding - not to mention they're great for keeping you warm when you're stood in the cold waiting for a taxi at 3am!

Our selection of 5 tights for night-time glam are the perfect choice for seasonal evening style.

| | | |
| --- | --- | --- |
| Falke Allover Bow Patterned Sheer Tights | | Levante Adelina Floral Tights |
| | | |
| This nude sheer style from here to shop. | | This fancy floral style from Levante is ideal for both shorter and longer dresses - a versatile evening style. Click here to shop. |
Oroblu Rosalyn Leaf Patterned Tights

Trasparenze Dercas Mock Hold Up Tights with Knickers

Pastel shades are an absolute dream in spring which is why we love these .

They add a gorgeous pop of colour to a black dress.

Mock hold up tights are a fave evening wear style and so versatile! This pair from here to shop.
Pretty Polly Pretty Glitter Ribbed Over The Knee Socks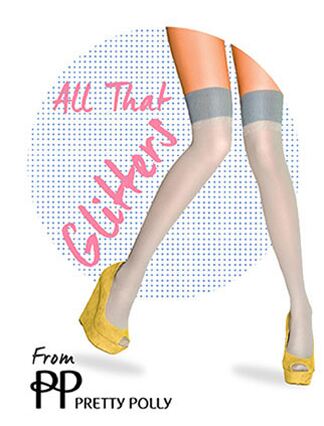 Okay, so we're cheating here as these aren't technically tights but we're still in the hosiery line so it's all right! These sparkly ribbed over the knee socks from Pretty Polly are sooooo cute and a great statement style for a night out and a right good knees up (ha-ha!).

What are your favourite tights styles for day or night? Let us know in the comments below.