Practical guide to office party outfits
Posted 25th November 2015 by SockShop
Office Christmas parties are unique events. Not only are you forced to socialise with people you work with, but you're more than likely having to head to a (hopefully) glamorous evening straight from work.

To make sure your outfit is right for the night, here's our guide to practical Christmas party style.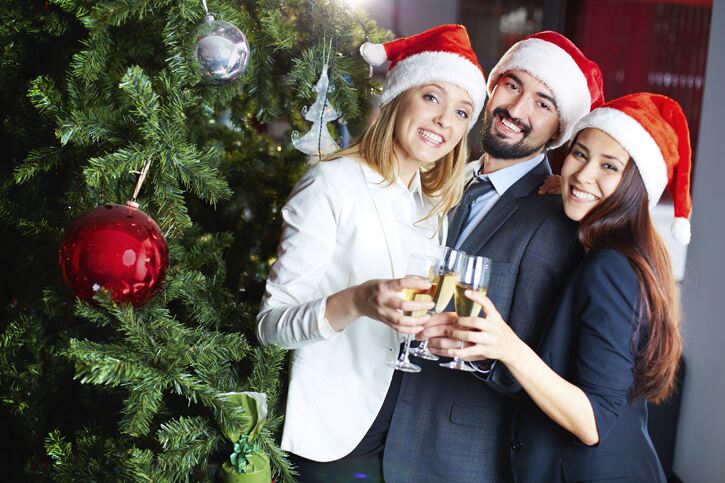 Be flexible

If you're heading to the event from work without getting the chance to change, you're going to need something that can be worn during the day and night.

A classic knee-length black dress can be given a quick and easy makeover with some glamourous accessories – add a bit of sparkle with a pair of statement earrings, swap your office flats for high heels or wrap up warm with a faux fur stole.

You could even keep handy a pair of on-trend fishnet stockings – if you're feeling daring.

Stay warm

The venue might be toasty, but 'baby, it's cold outside'. You don't want to be waiting around for a taxi home, or even the bus there, with your arms turning blue. Take with you this season's must have item – the fake fur jacket. The furrier and brighter the better.

Also, pack a nice pair of gloves and a woolly hat to complement your outfit while keeping you toasty. Pom-pom hats are big this winter, so try this Teddy Beanie with Pom-Pom Ears.

Hide your mistakes

Whether your finely balanced plate of canapés finally falls or a colleague who's had a little too much red wine knocks what's left of his glass over, you'll be at risk of getting yourself in a mess at the work's Christmas party.

White may be all the rage on the catwalks, but we recommend going dark with your choice of outfit to help hide any spills. Or adopt the 70s folk style that's so in at the moment with some busy patterns hiding the spills.

Cover up

Being glamourous is great. It's Christmas after all so what better time to add sparkle and excitement to your usual office outfit?

But we'd recommend avoiding too-short skirts or low tops as they could cause a classic 'wardrobe malfunction' that might end up being shared on the company's intranet. It's an office party after all, not the Baftas.
The catwalk is full of turtlenecks and full length dresses, so you can still be fashionable without having to bare all.

Bag it

You'll have a lot to carry around as it's going to be a long night. You'll need a bag that can carry your make up for post-work, pre-party finishing touches, tickets, money, your work phone, and more.

A decent sized clutch or shoulder bag is essential. Fortunately, bigger is better this season with leather barrel bags offering loads of space with a touch of classic style. This Calvin Klein leather bag is a great choice.

Comfy shoes

Finally, if you want to dance the whole night long (and who doesn't) then you'll need to be prepared with some flat shoes.

You'll need some comfy shoes for during the day, so just change into your more glamourous heels for your big arrival at the party, keep them on while you enjoy the fizz and finger food, and then ditch them as soon as the dancing starts.