Let's play dress up!
Posted 24th October 2013 by Danielle
Aaaaah . The kids act like kids, the grown ups act like kids. Everybody begs for sweets, watches scary films and it's the one time of year people actually seem to want their house to be covered in cobwebs!

But one of the main draws of Halloween is the dress up! Zombies, cats, witches, bats... Freddie Krueger? Putting together a costume can be a tough challenge but fear not... SockShop is here to help!

That pair of tights or those socks can make every bit the difference to your get-up (plus, we've got some effortless costumes for those of you who wish to throw something on and still look like you're in the spirit of Halloween!)

Ringer tights >
For whatever reason, Ladies 1 Pair Silky Scarlet Ringer Striped Tights are a top choice!
Just add an LBD

This collection of just screams "LBD"! If you'd prefer to go for a trendier look this Halloween - as opposed to the haggered zombie bride - then this is the choice for you! Team a pair of these fabulous tights with a stylish little black dress and a pair of "killer" heels (see what we did there) and there you have it - Hallow-chic!

The themed tights even make a great addition to any other costume, rounding off your look!

The "yes, I have made an effort" approach

We call this a minimalistic touch! Your socks can say it all... be it fun patterns or secret identities!


| | |
| --- | --- |
| Skull Socks In 4 Colours | & Crossbones Fine Cotton Socks |
| | |
| --- | --- |
| Mix Batman Socks | Mix Superman Socks |
The animalistic approach

If you're going for the animalistic approach, we've got the perfect tights to add that little something extra to your costume!


| | |
| --- | --- |
| Ladies 1 Pair Elle Leopard Printed Tights | Animal Print Tights In Black and White |
Something for the kids >
If your kids don't want to dress up,
are a great way to get them involved! We've got tons of socks starring their favourite cartoon heroes to choose from!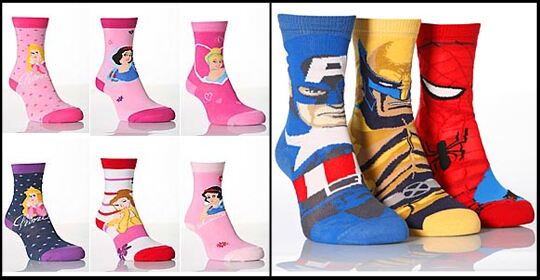 | | |
| --- | --- |
| Girls 4 Pair TM Disney Princesses Socks | & Wolverine In 2 Assortments |
So there you have it, dress up solutions... just add socks and tights!

Happy Halloween!

Danielle x