SockShop Student Survival Guide
Posted 1st October 2014 by Danielle
The SockShop Student Survival Guide is here! Whether you're a new starter or returning with a wealth of experience, we're sure these hot tips for heading back to uni won't go amiss.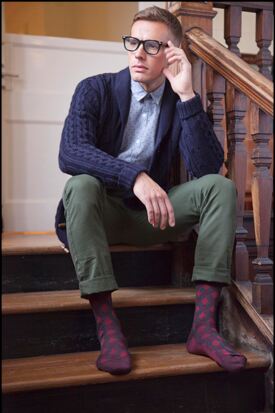 Don't lose your laundry!

Those communal washing rooms can get a little busy with pants and shirts and the odd sock here, there and everywhere! Get personal and make sure nobody steals your socks!
Ladies' Personalised Socks >

Keep your thermals handy!

In case the student life hits hard and you can't reach for the central heating, keep your handy! From super warm socks and tights, to cosy snugovers, there'll be no need for costly heat-seeking!
Beat the bed-head rush to lecture look

There may be one or two (but probably more) times you'll be on the last minute and the bed head can't be saved, so make sure you stock up on your hats and headscarves to salvage your style!

Party hard but save your soles!

In case nobody warned you, those who live the student life are often partial to a night out, but killer party heels can take their toll by the end of the night! Make sure you've got a pair of life-saving fold up shoes handy in your favourite clutch bag!

Slip on your slippers (in case someone forgets to clean the kitchen floor!)

In case the cleaning rota goes to pop (as they so often do), make sure you've got your slippers handy in case you need to brave some questionable floor space or even just as one of those timeless home comforts!
But most importantly...

have the time of your life and you're sure to survive!