Revamp your wardrobe for autumn
Posted 21st September 2016 by SockShop

With autumn once again upon us, now's the perfect time to clear out your wardrobe and replenish it with plenty of new – or old – clothes more suited to the cold crisp days and long nights.

Statement jackets

If there's one item you're going to splash out on this season, it has to be a statement jacket. It'll be your friend through to March so make sure you pick the right one. Shearling is back in style once again, though we like a good toggle-buttoned parka.

Credit: Daniel Leal-Olivas/PA Wire

Keep the tees

While summer might be over, you don't need to get rid of all your t-shirts as they'll work perfectly as an extra layer underneath jumpers or shirts, and there's always the chance that you'll get that one warm weekend at the end of the month.

Long sleeves in

Trying to bridge that gap between summer and autumn can be hard, as the weather changes daily. One option is to go for a similar look to your summer outfits but with added sleeves. Long sleeve t-shirt and shirts will keep you warm but can also be rolled up if the weather improves.

Get chunky

It feels now like British summers are no longer the sun-filled days of our childhood, so your wardrobe is probably full of lightweight knits, but these won't cut it as sun turns to showers. It's time to go chunky – get out the cable knit sweaters and heavier wool jumpers and cardies to keep the cold winds at bay.

Up your sock game

Keeping your feet warm and dry while hiking through a frost-filled forest, or simply waiting in the pouring rain for the 97 bus, can be tough. This is why you've got to wear seasonally appropriate socks. Wool is your friend in the autumn, keeping toes toasty while letting your feet breathe once things hot up. And we say the longer the better when the cold days set in.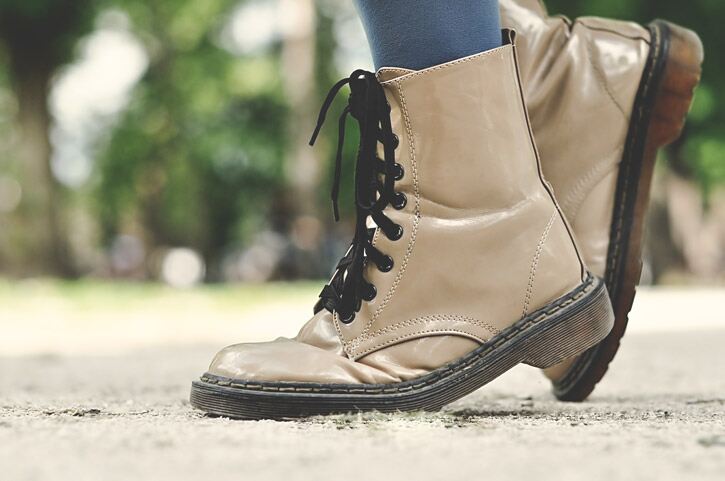 Credit: Daniel Leal-Olivas/PA Wire
Bring out the boots

It's not just socks you need to think about when it comes to feet – now is the time to slip away the slip-ons and march out some sturdier footwear. Big chunky boots and buckles are in style this season, with even bigger socks worn underneath.

Tone it down

Autumn is all about colour but it's a very different palette to summer. Ditch the summer season's yellows, pinks and sky blues, and embrace the burgundies, burnt oranges and steel greys of autumn. Pantone, the king of colours, has gone for warm blues with earth tones and pops of lush red and spicy mustard.

Head and hands

Autumn is a great season for accessorising, whether it's with warm hats, funky gloves or statement scarves. Again, wool is a great option for all three, but we also like leather gloves for a touch of class, or fake fur scarves.