Indulge your feet with the pure luxury of Corgi socks. Renowned for their dedication to quality and true attention to detail, Corgi are devoted to producing exceptional products. In 1989, Corgi were awarded a 'Royal Warrant' by His Royal Highness, the Prince of Wales. In bold colours and trendy and quirky designs for men and women, brighten up your sock drawer with a pair of socks from this broad range.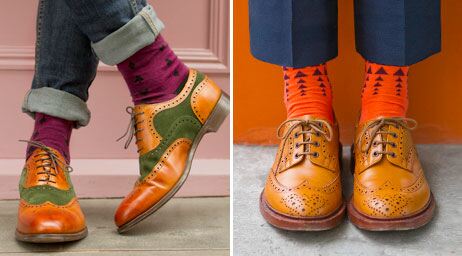 Corgi has its roots firmly in West Wales where Rhys Jones, an enterprising local trader, opened a small shop called Ford Mills in 1893, supplying drapery items by horse and cart. This quickly developed into a thriving business, which soon grew, after purchasing a number of second hand knitting machines, to produce thigh high woollen socks for local colliers, and then a similar product but in a finer quality for men to wear to chapel on Sundays. His enormous attention to detail and quality meant the reputation of his products grew and demand spread across east and mid Wales.
As the business was passed down through the family, eventually landing with Rhys' granddaughter Enid and her husband Glyn Jones, it grew in size, staff, machinery and reputation, taking on a number of ventures, including producing socks from both the British and Allied forces during World War II, and producing what were later to become known as Argyle socks, after training staff to construct the pattern using the old hand knitting machines.
After finding they were receiving orders from America and beyond, the company grew further, moving to new premises. A new company – Corgi Hosiery Ltd - was formed to covering the manufacturing side of the business – the name was influenced by the Welsh Breed Corgi dog, made popular of course by the then Princess Elizabeth's fondness for the breed.
The company continued to expand and develop, and was passed further down through the family.
In 1989 Corgi was awarded a 'Royal Warrant' by His Royal Highness, the Prince of Wales. This has become a mark of quality for the company's products across the world and is regarded with enormous pride by everyone at Corgi.
In the past couple of decades, the company has expanded its product lines to include ladies' and children's wear, attracted investment from other companies, renovated its factory and been able to make the company greener.
Today, Corgi is recognised as the leader in beautiful hand framed knitwear and hand linked socks, which are now stocked in leading department stores and fashion shops across the world.