£ GBP
We accept PayPal and Amazon Payments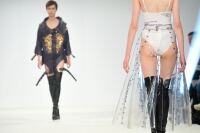 Students get first taste of world of fashion
02nd June 2015
The great and good from the world of fashion have been gathering in London for a prestigious event ...
View More News
Got a question? Get instant answers:

This range of high quality Aristoc tights features the latest fashion colours and styles. Every pair of Aristoc tights is created using cutting-edge technology and materials, designed to provide the highest levels of comfort, fit and performance so that you can look and feel fabulous. Shop our range below and treat yourself to some luxurious, British hosiery.