$ USD
We accept PayPal Payments

Björn Borg is an iconic Swedish tennis player whose unique style and rock-star qualities inspired the creation of the Björn Borg brand in 1984. Nowadays Björn Borg is an international fashion brand known for its stylish sports-influenced designs, like in this range of socks and underwear, with a playful edge that one doesn't always associate with the ice-cool Swedes.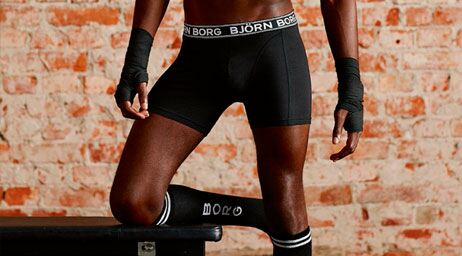 Read More
Björn Borg was, and still is to many, one of the tennis greats from his short but bright career playing international tennis for Sweden. From the start of his career, he broke many records. At just 15, he began representing his country in tournaments and, at 16 he reached the Wimbledon quarter finals on his first attempt. He holds the record for winning five consecutive Wimbledon titles, matched only by Roger Federer. The list of his achievements goes on!

Borg retired in 1983 at only 26 years of age, and later decided to start his own fashion label in the first half of the 1990s, including sports and casual wear. He has designed a range of quirky products with a sporty twist, fitting in with his rock star look from back in the tennis playing days. Different from the rest, unique and happy to stand out, Bjorn Borg's fashion fits his style and his manner; now his label is doing better than ever, beaten only by Calvin Klein in his home country.

Björn Borg says JA! to JA! because JA! liberates us to do anything, be anything, challenge anything and create anything. So, if you are with us, just say JA!
Customer Services
Our Sister Sites
Customer Services
Our Sister Sites
© Copyright 2017 Drew Brady & Co Limited T/A SockShop