$ USD
We accept PayPal Payments

Enjoy the true luxury of genuine Calvin Klein socks and underwear, and experience the look and feel of designer wear, from luxurious men's and ladies' everyday socks, to those famous Calvin Klein boxer shorts with the instantly recognisable waistband.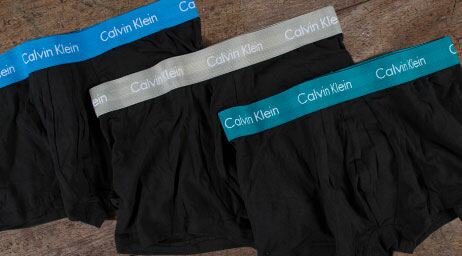 Read More
Underwear would never be looked at in the same way after designer Calvin Klein introduced Calvin Klein Underwear in 1982. Before then, men's underwear had been seen as a practical basic but Calvin Klein made it an "object of desire". With his clever use of advertising, people instantly appreciated the new, sexy and cool designer appeal that distinguished Calvin Klein from other underwear brands. In 1983 Calvin Klein Underwear for women was also introduced.

Calvin Klein pride themselves on creating a new collection of fashionable underwear every season. Calvin Klein is one of the world's most well known brands and therefore quality is at the forefront of all products. The perfect fit and fabric are central to Calvin Klein's comfortable underwear, with a wide range of innovative fabrics used from rich natural cotton to sexy, sheer synthetics.
Customer Services
Our Sister Sites
Customer Services
Our Sister Sites
© Copyright 2017 Drew Brady & Co Limited T/A SockShop