£ GBP
We accept PayPal and Amazon Payments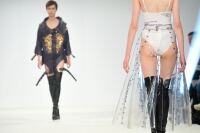 Students get first taste of world of fashion
02nd June 2015
The great and good from the world of fashion have been gathering in London for a prestigious event ...
View More News
Got a question? Get instant answers:

Rich colours, distinctive designs and a bit of sparkle – you can't go wrong with a pair of Calvin Klein ladies' socks! Whether you're after a pair of trainer socks, knee highs or ankle socks, choosing Calvin Klein means you can be sure of receiving socks which are good quality, comfortable and extremely stylish!
No Products Found
Sorry, we couldn't find any products that matched your search.