£ GBP
We accept PayPal and Amazon Payments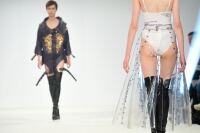 Students get first taste of world of fashion
02nd June 2015
The great and good from the world of fashion have been gathering in London for a prestigious event ...
View More News
Got a question? Get instant answers:

Famous for its instantly recognisable branded waistband, Calvin Klein is a men's underwear favourite all around the world. From boxer shorts to trunks, enjoy the feel of designer quality in a wide range of basic and bright colours and styles.