£ GBP
We accept PayPal and Amazon Payments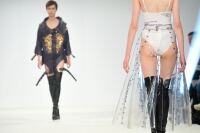 Students get first taste of world of fashion
02nd June 2015
The great and good from the world of fashion have been gathering in London for a prestigious event ...
View More News
Got a question? Get instant answers:

Our sophisticated selection of Charnos hold ups includes stunning opaques, trusty sheer hold ups, run resist hold ups and luxurious bridal hold ups. With such a varied range, any hold up fan will find their perfect pair here. Indulge your legs and slip on an elegant pair of hold ups from our exquisite collection.