£ GBP
We accept PayPal and Amazon Payments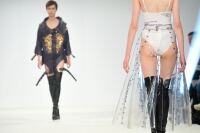 Students get first taste of world of fashion
02nd June 2015
The great and good from the world of fashion have been gathering in London for a prestigious event ...
View More News
Got a question? Get instant answers:

Creating luxury hosiery since 1936, the experts at Charnos Hosiery certainly know what they're doing, and this truly stunning range of Charnos ankle and knee highs is so varied that you are sure to find your perfect pair here. Light, fresh ankle highs and comfortable knee highs work well with so many styles - from skirts, shorts and cropped trousers to full trouser suits. In a variety of colours and patterns, this versatile range will add a touch of elegance to your everyday wardrobe.