$ USD
We accept PayPal and Amazon Payments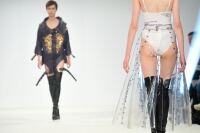 Students get first taste of world of fashion
02nd June 2015
The great and good from the world of fashion have been gathering in London for a prestigious event ...
View More News
Got a question? Get instant answers:

In truly beautiful patterns and wonderfully feminine colours, this collection of Charnos socks will make a lovely addition to your spring/summer wardrobe. Available in soft bamboo and cotton materials, these socks are easy to wear and easy to care for. Pretty and comfortable, these socks make great choices for your everyday and casual wear.