$ USD
We accept PayPal Payments


Our range of Dare to Wear men's underwear takes quirky style to a new level. Featuring a collection of "bold geometric patterns", this range of boxer shorts is perfect for any man who dares to wear and show his colourful side. Take a look at our colourful collection below - we DARE you!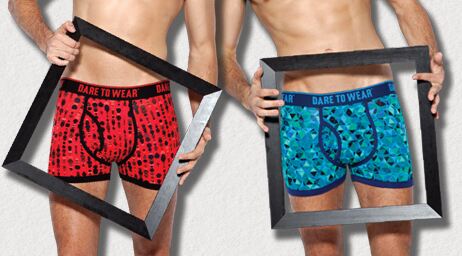 Read More
The Art of Looking Good
Exclusive, authentic original art.
Quality, innovation and a passion for just plain looking good are at the heart of
Dare To Wear®
- Our love of bold geometric patterns, combined with a voracious appetite for popular culture and urban art sparked an idea for an underwear brand with a difference.
Our exclusive prints, created in conjunction with some of the industry's most talented graphic artists inspire a new generation to see their bodies as a blank canvas and frame themselves in our bold, daring designs.
Customer Services
Our Sister Sites
Customer Services
Our Sister Sites
© Copyright 2017 Drew Brady & Co Limited T/A SockShop