£ GBP
We accept PayPal and Amazon Payments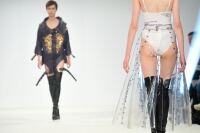 Students get first taste of world of fashion
02nd June 2015
The great and good from the world of fashion have been gathering in London for a prestigious event ...
View More News
Got a question? Get instant answers:

Do a little good and stay comfortable in our range of Fairtrade socks. These styles from FiveG and SockShop have been made with certified Fairtrade Cotton, which guarantees that disadvantaged small-scale cotton farmers in developing countries receive a fair deal.