£ GBP
We accept PayPal and Amazon Payments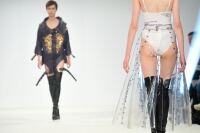 Students get first taste of world of fashion
02nd June 2015
The great and good from the world of fashion have been gathering in London for a prestigious event ...
View More News
Got a question? Get instant answers:

If you're looking for a pair of hold ups that offers great quality, style and comfort, then take a look at our selection of Falke hold ups. With a number of styles available, including pairs that have lace and ribbon finishes, you will be spoilt for choice with Falke, a company which prides itself in producing items that make a woman feel stylish and sexy.