£ GBP
We accept PayPal and Amazon Payments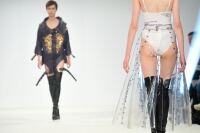 Students get first taste of world of fashion
02nd June 2015
The great and good from the world of fashion have been gathering in London for a prestigious event ...
View More News
Got a question? Get instant answers:

Falke shoe liners definitely make wearing your favourite shoes all day long a bit easier! Produced with the same level of quality that we've come to expect from its full-length socks, Falke shoe liners have elegance and style, with some featuring an anti-slip feature for that extra level of comfort. Take a look at our selection of Falke shoe liners for men, ladies and kids below.