£ GBP
We accept PayPal and Amazon Payments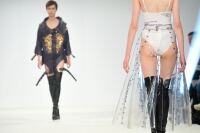 Students get first taste of world of fashion
02nd June 2015
The great and good from the world of fashion have been gathering in London for a prestigious event ...
View More News
Got a question? Get instant answers:

Designed in London by British designers, Firetrap celebrate their roots taking inspiration from the sights, sounds and flavours of London life. Each 2 pair pack of boxers in this collection of men's underwear is incredibly modish. Made from breathable stretch cotton jersey, these boxers have such features as a short inseam leg, double layer flyless pouch front and a seamless back panel.