Scarves are Fraas's tradition, passion and heritage. For more than 125 years, Fraas have upheld a family tradition of manufacturing high-quality scarves that are unlike anything else the world over. This collection of luxurious and stylish scarves is what Fraas is all about.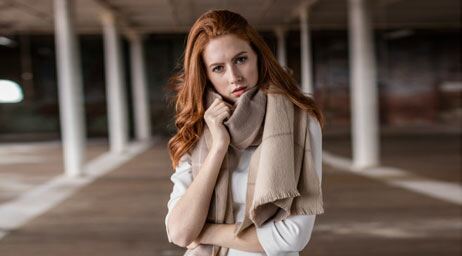 Behind the Fraas brand is a company with nearly 130 years of history: V. Fraas. This family business has always successfully combined tradition with innovation. Today, V. Fraas is the market leader in the manufacture of textile accessories.

The Fraas brand, branching from V. Fraas, was first introduced in 2006. Scarves are Fraas' tradition, passion and heritage. Just as proud of this tradition as they are of their market-leading position, Fraas are more than just the world's largest scarf manufacturer – they are synonymous with scarves like no other company.


About V. Fraas
In 1880 Valentin Fraas founded the company V. Fraas in Wüstenselbitz, a small village in Upper Franconia, and started to produce scarves, headscarves, shawls and tartan travelling rugs. Over the years, the company grew as it was passed through the family, gaining more and more employees and branching into New York, Toronto, London and Hong Kong.

The Cashmink® brand was introduced in 1985; a high quality acrylic scarf that feels so soft that it is often compared to natural cashmere and became the most-sold scarf in the world. In the 90's V.Fraas branched further, expanding to the East European market and opening branch offices in Japan, Korea and Russia.
V Fraas celebrated their 125th anniversary in 2005 and opened their first Flgaship store selling accessories in Berlin.