£ GBP
We accept PayPal and Amazon Payments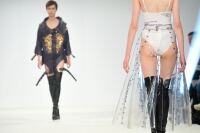 Students get first taste of world of fashion
02nd June 2015
The great and good from the world of fashion have been gathering in London for a prestigious event ...
View More News
Got a question? Get instant answers:

The variety and choice in Fraas men's scarves has to be seen to be appreciated, from the mix of colours and patterns to the excellence of weaving and materials. Renowned for their superb quality, these Fraas men's scarves will add a touch of refinement to any outfit, and the length and versatility of these scarves will allow you to wear them in a variety of ways.