Gentle Grip socks have been engineered for your total comfort! Each and every Gentle Grip sock in this innovative collection has the special gentle grip cuff which carefully moulds to the natural contours of your leg, leaving no nasty constriction rings around the ankle. Browse our entire range of men's and ladies' Gentle Grip socks here.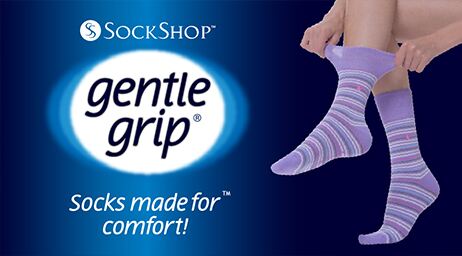 Gentle Grip was created 15 years ago as an innovative solution to the uncomfortable issue of socks that are too tight at the top. After many experiments, Gentle Grip discovered the three elements that make their socks so special they have sold over 30 million pairs worldwide.
1. Unique Honeycomb Top ™ - a fine a fine mesh knit with a honeycomb pattern that carefully moulds to the natural contours of your leg. It's strong enough to hold the sock up, but not so tight that it leaves a ring.
2. Special soft touch cotton - provides all-natural comfort and lets your skin breathe, helping your feet stay fresh and dry all day long.
3. No elastic – to avoid the soreness of constriction and pressure hotspots.
As well as comfort, Gentle Grip's own specially adapted machines, allow them to make Gentle Grip in dozens of beautiful patterns, including snazzy stripes, funky spots and classic argyle.