£ GBP
We accept PayPal and Amazon Payments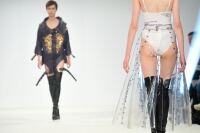 Students get first taste of world of fashion
02nd June 2015
The great and good from the world of fashion have been gathering in London for a prestigious event ...
View More News
Got a question? Get instant answers:

All Hawick Knitwear products are made in Hawick, Scotland. Hawick Knitwear have been working to perfect the art of designing and producing luxury knitwear to the highest quality standards since 1874. Take a look for yourself and browse our collection of knitted hats and scarves below.
Read More
For well over a century Hawick has been a mill town with a successful textile industry, supplying the world with the best quality knitwear. Hawick Knitwear are at the very heart of the industry and can trace their proud history of manufacturing back to 1874.
All garments are made at their factory by skilled craftsmen and craftswomen with decades of experience behind them. The Hawick Knitwear brand encapsulates this incredible heritage.
With an average of 7,000 units being produced from their factory every week, they are the largest knitwear manufacturer by production terms in the UK today.
With a private well that pumps pure, crisp, Scottish water into the factory from a burn that runs nearby, Hawick Knitwear's access to pure water is used to wash their knitwear to release its natural softness during the manufacturing process. This ensures your knitwear stays soft and comfortable for years to come.

Made in Scotland


Passionate about British made goods, Hawick Knitwear use British dyed and spun yarns whenever they can. Both their Cashmere and Lambswool yarns are dyed and spun in the UK. All Hawick Knitwear knitted products are made by them and they are proud to have a "Made in Scotland" label on every single one of their products.
Every piece in Hawick Knitwear's collection is made and hand-finished in their own factory in Hawick, so they can ensure every piece carrying the Hawick Knitwear label meets their stringent manufacturing requirements and customer service aspirations.
0 results in Hawick Knitwear Hats & Scarves
No Products Found
Sorry, we couldn't find any products that matched your search.