$ USD
We accept PayPal and Amazon Payments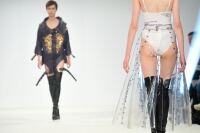 Students get first taste of world of fashion
02nd June 2015
The great and good from the world of fashion have been gathering in London for a prestigious event ...
View More News
Got a question? Get instant answers:

This range of Heat Holder socks is for dedicated football fans. Whether you are cheering on your favourite team from the stands or supporting your child in the school field, these thermal socks will keep your feet warm. In a wide range of colours, why not treat yourself to a pair that matches your team's kit?