Make a fashion statement in this scorching selection of Hot Sox! Straight from New York, this cool collection of socks will make any outfit sizzle with individualism. Don't tread carefully, jump into the hottest fashion fast lane and get edgy with this range of men's and ladies' socks from quirky patterns and designs, to classic art prints!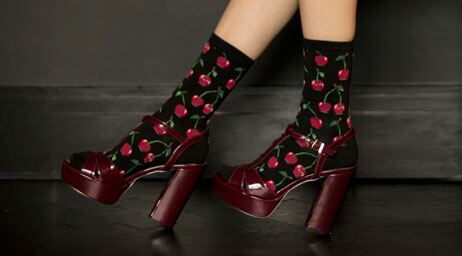 As skirts shortened, bell bottoms widened, hair lengthened and self-expression through style became the norm, founders Gary and Sarah Wolkowitz, and her sister and brother-in-law, crammed into a sports car for a Sunday ride back to New York from Cape Cod. Fuelled by their Massachusetts friends' successful side business selling appliquéd t-shirts, the creative foursome began to brainstorm. Shoes didn't stick. Ties were tired. But hot pants were, well… hot. So when someone said, "Hot Sox" it sounded just right. And the idea that would go on to break the conventions of American hosiery was born. 24 hours later, the crew headed to New York's Lower East Side and bought their first batch of bright opaque socks to silkscreen.
With more than 40 years of creative experience, Hot Sox remains the innovator of fashion socks, priding themselves in creating socks season after season that are cutting edge, creative and bright in design and the best of quality. With so much colour and design that you'll need your sunglasses on when you wear these, Hot Sox continues to allow you to express your individuality one step at a time.