£ GBP
We accept PayPal and Amazon Payments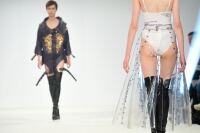 Students get first taste of world of fashion
02nd June 2015
The great and good from the world of fashion have been gathering in London for a prestigious event ...
View More News
Got a question? Get instant answers:

Turn heads in this collection of sassy statement socks for women from HotSox. Including a colourful variety of funky patterns and quirky motifs, this range also includes the HotSox Artist Collection, featuring prints such as Da Vinci's Mona Lisa, and Van Gogh's Sunflowers.