For over 30 years, British brand Jonathan Aston has produced legwear that spans a myriad of fashion forward styles in a stunning colour spectrum. Take a look at this high fashion range of legwear including tights, footless tights, hold ups, knee highs, over the knees, anklets and legwarmers. View our collection below.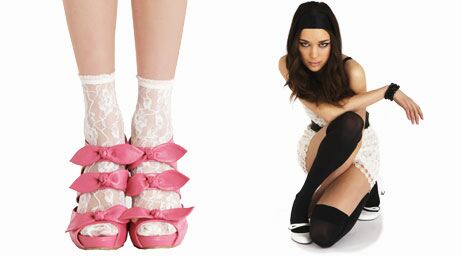 "Taking the hottest looks in legwear to the world"
British brand, Jonathan Aston, are proud to be "the pre-eminent brand for innovative fashion legwear". For over 30 years they have been creating legwear that spans countless fashion forward styles in a stunning colour spectrum including everything from the softest legwarmers to the funkiest animal print tights.
From their very first polka dot tights that ushered in the swinging sixties, via classic sheers, funky fishnets, fabulous laces, bold stripes and bright opaques, Jonathan Aston has been synonymous with style, quality and confidence.
Jonathan Aston was founded in Leicester - the hub of the textile industry - in 1965, when founder Ralph Salem used knitting machines that had only ever been used for plain tights, to produce 'fashion hosiery'.
An iconic brand was born and soon the coolest names of the day (including Twiggy and Jean 'The Shrimp' Shrimpton), were swinging their luscious legs in Jonathan Aston.

In 2002 the business was acquired by the Melas Group with high quality production continuing. Jonathan Aston retains much of the orignal design archive, hence the retro influence and timeless appeal of today's classic styles.