£ GBP
We accept PayPal and Amazon Payments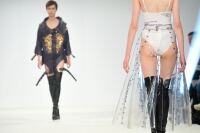 Students get first taste of world of fashion
02nd June 2015
The great and good from the world of fashion have been gathering in London for a prestigious event ...
View More News
Got a question? Get instant answers:

As hosiery specialists, Levante socks have all the fine qualities of their stockings, tights and hold up collections - great Italian design and manufacture, soft fabrics and comfortable styles. This Levante range includes beautiful comfort top socks, combed cotton socks, lambswool socks and angora socks. Available in a wide range of pretty patterns and feminine designs, browse our range of Levante socks below.