Created using yarn mix made from milk protein (yes, drinking milk!), this collection of Milkteds® compression socks functions 'silently' in the background using the science of graduated compression, as they work their magic to prevent and revive tired legs, swollen ankles and achy feet. Born in the UK and made to the highest standards in Italy, Milkteds® give you exceptional quality materials, innovation in design and comfort in luxury.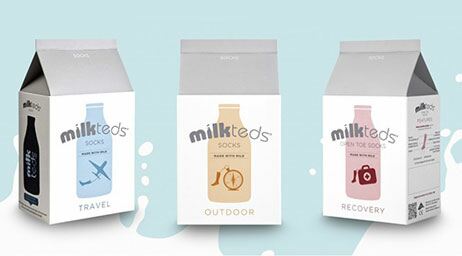 Milkteds® believe that graduated compression hosiery with mild to moderate degree of compression (upto 22 mmHg) is beneficial for everyone, everyday.
This level of support is considered to help prevent or relieve tiredness, early swelling (mild oedema), spider veins, and mild varicose veins. milkteds® can also be worn when convalescing post-surgery, throughout pregnancy as anti- embolism products, during outdoor and sporting activities or when travelling to avoid thrombosis.


Milkteds® compression products are made with a yarn mix made from milk protein, (yes, it is drinking milk!) In brief, the process involves removing water from milk (yes, it is drinking milk!) and the remaining protein fluid is then spun into a high-grade fibre. Milk yarn contains amino acids beneficial to health, some of the properties include:
Natural humectant factor; skin nourishing and silky smooth
Sanitising
Antibacterial
Anti-fungal
Hygroscopic as it absorbs moisture
Glossy and luxurious in appearance, feel and comfort
Durable
Graduated compression hosiery work by applying pressure, gradually decreasing from the ankle towards the knee or the thigh. They are classified on the basis of the degree of compression (support) provided at the ankle, which is measured in millimetres of mercury (mm Hg). They are easy to put on; soft, and smooth with a luxuriously comfortable feel, unparalleled in today's compression wear products.