£ GBP
We accept PayPal and Amazon Payments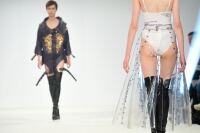 Students get first taste of world of fashion
02nd June 2015
The great and good from the world of fashion have been gathering in London for a prestigious event ...
View More News
Got a question? Get instant answers:

Milkteds
maternity compression socks and tights are designed to aid the swelling in your feet, ankles and legs which comes with pregnancy. The swelling is triggered by increased pressure on the large veins in your groin, which occurs as your baby grows, as well as water retention. Milkteds
compression wear gently pushes the fluid away from the area not allowing it to settle in your lower limbs and so preventing fluid build-up. Choose from compression tights, as well as socks with both open and regular toes.