$ USD
We accept PayPal Payments


Nike started when co-founder Bill Bowerman observed: "If you have a body, you are an athlete". The Nike brand believes in carrying on this legacy of innovative thinking and is dedicated to developing products that help athletes of every level of ability reach their potential. Such values are incorporated into all Nike products, and are presented in this extensive range of Nike socks, gloves, hats and other accessories.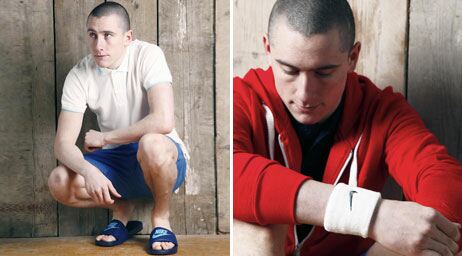 Read More
Before Nike, there was Bill Bowerman. A track and field coach at the University of Oregon in the 1950s, Bill revolutionised the sports footwear industry after experimenting with different ways of giving his athletes a competitive advantage. After testing different track surfaces and re-hydration drinks, running shoes became his innovation. After being ignored by many footwear manufactures, he begun to cobble his own for his runners.

In the late 1950s, a graduate of the University of Oregon and a talented middle-distance runner, Phil Knight went onto write a paper "that proposed quality running shoes could be manufactured in Japan that would compete with more established German brands" while studying at Stanford University. With no response from Japanese and Asian footwear manufacturers, he persuaded one manufacturer to make him the him the distributor of Tiger running shoes in the USA.
In an attempt to make a sale he sent Bowerman some Tiger shoes samples, however, instead of buying them he offered to become his partner sharing his footwear designs to Tiger.
After each putting in $500, Blue Ribbon Sports was founded. In 1964 they placed their first order of 300 pairs of shoes which Knight began to sell out of the back of his car. Continually striving to improve the running shoe, Bowerman would rip the Tiger shoes apart determined to make them lighter, testing them on his university runners.
With both the founders having full time jobs; Jeff Johnson, a runner, became the first Blue Ribbon Sports full-time employee in 1965 and opened their first shop in Santa Monica, California in 1966. It was April 26th of this same year that Knight and Bowerman changed their hand shake agreement into a formal written partnership. On 26th December 1967 Knight and Bowerman incorporate BRS, Inc as an Oregon corporation, successor to their partnership known as blue ribbon sports. BRS, Inc. was the exclusive marketer, distributor and seller of Onitsuka Tiger running shoes imported from Japan. With a foam cushion heel wedge, these shoes were based on a design proposed by Bowerman. In 1968 the first RRS West store opened in Oregon, where Bowerman's "Cortez" running shoe became the best-seller. In 1969, Knight became a full-time employee.
1970 saw Bowerman revolutionize sports footwear with the use of his wife's waffle iron. Creating rubber spikes by pouring in liquid rubber compound into the waffle iron and using it as a mould.
In 1971 Carolyn Davidson, a graphic design student, was paid $35 for the creation of the Nike Swoosh trademark. In 1971 Jeff Johnson dreams of Nike, the Greek Goddess of Victory. This inspired BRS to call their first footwear that featured the Swoosh logo "The Nike" instead of Dimension 6 (an idea that Knight had). This soccer cleat was manufactured in Mexico. The first ever piece of apparel was a Nike t-shirt which was created to promote the new Nike shoe.
Customer Services
Our Sister Sites
Customer Services
Our Sister Sites
© Copyright 2018 Drew Brady & Co Limited T/A SockShop